Currency Partners is a proudly South African independent foreign exchange service provider with multiple banking partners who ensure their clients always get access to the best pricing and service available in the market.
Currency Partners offer a friendly and personal service, right from their paperless registration, through to obtaining live quotes and expert advice on how to make significant savings with a professional, dedicated FX dealer. With their bulk currency order volumes, they give their clients access to competitive pricing for fast, reliable and secure currency transfers – not only benefiting from their specialist service, but also potentially saving money with preferential exchange rates.
In addition to foreign exchange services, Currency Partners offers their clients assistance with tax migration, inheritances and estate late transfers, foreign currency accounts and commercial solutions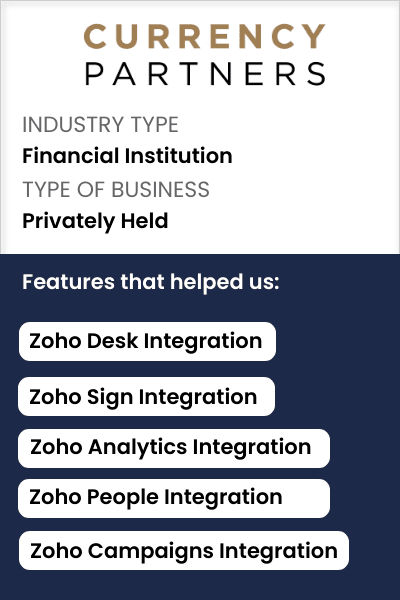 The Challenge
Before switching to Zoho, Currency Partners found that too many vendors were involved in providing different solutions. Zoho on the other hand had an entire ecosystem that could be utilised and what's more, the products integrated with one another making it easier to adopt a wide range of business cases.
With its multiple departments, Currency Partners sought out a lucrative and customisable CRM to fit their their business needs and that could integrate seamlessly with a host of other vital business applications.
After an in-depth analysis of the business processes in place, the DSL Telecom Zoho implementation team set to work on customising Currency Partners' Zoho CRM as a centralised application for better utilisation and an improvement in their ROI.
What's more, with added Zoho products like Analytics, Desk, Sign,
People and Campaigns, the Zoho suite of applications offers Currency Partners the type of technology that allows their business to transform with all information in a single place.
Some of the revolutionary CRM features that were implemented included adding Blueprints across modules.

Blueprint in Zoho CRM makes sure your sales process keeps moving. Blueprint also ensures that important tasks for a particular stage, like sending a quote or scheduling the next follow-up call, are marked complete before moving to the next stage of your process.
A second feature which was set up in Zoho CRM was custom roles, whereby administrators can create custom roles and set privileges based on each role's needs, thus deciding how much information a user assigned with a custom role can view with regards to their roles and other users' roles.
Email templates, was the next exciting feature to be implemented to boost the team's efficiency - they are now able to send emails in a predefined format without having to repeat the formatting tasks multiple times. This proved useful in standardising their mails across the organisation.
Next up, in order to analyse large amounts of sales, operational and client data. Currency Partners wanted a simple self-service BI solution that was easy to use and collaborate on and enabled end-to-end business analysis across all their functions. They needed an overall picture that would show complete business performance and help identify potential opportunities for the company.
It made sense to introduce Zoho Analytics mainly because it's extremely user-friendly. You don't necessarily need to understand the data—Zoho does it for you and asks if you want to blend two different tables for creating reports. Also, with capabilities like filtering, it gives them greater control over how they want to present their data. Very simple and practical. This is probably the best BI tool around.
With their multiple departments, it became necessary to differentiate between them easily and in a structured manner. This is where Zoho Desk was introduced. It's a context-aware customer service software that has helped transform Currency Partner's customer service offering. Now it's possible to manage customer conversations across multiple channels such as email, chat, phone, social media, and their website.
Given the very nature of Currency Partners' core business, it made sense for DSL Telecom to implement Zoho Sign for them, a cutting-edge app which allows you to digitally sign documents yourself and email the signed copies to others, get documents signed on the spot, or send documents to request signatures, all directly from Zoho CRM.
Another intelligent app implementation for Currency Partners was one which would simplify HR operations, retain talent, and build a high-performing workforce while putting employee experience first. Enter Zoho People, which is utilised extensively for internal operations such as a leave approval system, recruitment and onboarding.
Last but not least to have an awesome new app implemented was the marketing team and they are thoroughly enjoying working with Zoho Campaigns. Now they can send highly targeted and relevant email campaigns to relevant business divisions using a simple drag and drop editor with powerful features like CRM merge tags that help establish a relationship between leads and the sales team.
Thanks to the expertise of DSL Telecom, 30+Currency Partners employees have experienced the many impactful results of Zoho during their day-to-day operations and cannot wait to see what else Zoho can do for their business.
To ensure that Currency Partners gets the most out of their Zoho technology investment, they've bolted on a DSL Telecom Zoho Customer Success Plan which allows them to reach success even faster. Their dedicated Customer Success Manager provides continuous solid advice to accelerate business growth dramatically.
Choose DSL Telecom as your proven implementation partner
Get your Zoho Applications completely tailored to your business's requirements by our team of Zoho consultants and reap the benefits of modernisation faster.
To find out what DSL Telecom can do for your business, book your free evaluation meeting.
Choose DSL Telecom as your proven implementation partner
Get your Zoho Applications completely tailored to your business's requirements by our team of Zoho consultants and reap the benefits of modernisation faster.
To find out what DSL Telecom can do for your business, book your free evaluation meeting.