RenEnergy is an innovative turnkey solar and storage solutions company with offices based in both South Africa and the UK. They supply commercial solar PV (photovoltaic) systems to businesses, agricultural and public sector organisations.
Their in-house consultancy and installation teams manage projects end-to-end, which ensures the best outcomes and service to their customers. RenEnergy helps customers achieve a reliable, cost-effective energy supply, while saving money and reducing C02 emissions.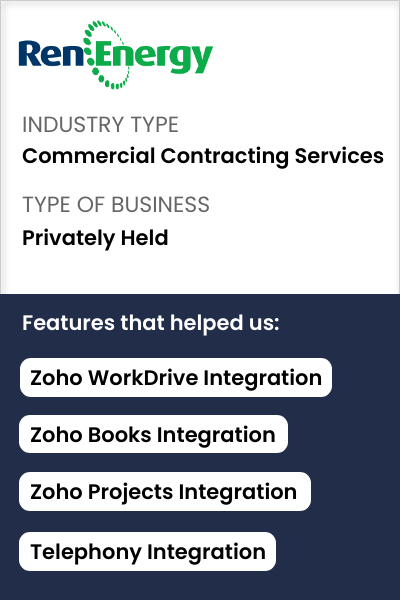 The Challenge
RenEnergy lacked a single system that could handle their sales, content collaboration and accounting processes. They also needed an outstanding cloud-based project management software that not only enabled them to manage their entire system more efficiently, but also integrated seamlessly with their other business apps.
The technology being used presented challenges in achieving their mission of providing their customers with prompt services and their employees with effective tools.

In a nutshell, they required a system with software that integrated seamlessly so that time-wasting tasks could be automated and the entire team could be more productive and more organised.
The DSL Telecom Zoho Implementation team, after analysing RenEnergy's requirements, set up and fully customised Zoho CRM as the centralised application to serve all their sales and service needs. In addition, Zoho CRM integrations with DSL Telecom telephony products and Zoho products like WorkDrive, Books and Projects that helped to bring about a complete transformation for their business. Zoho CRM offers RenEnergy the type of technology that allows them to be more proactive and insight-driven, with all information in a single place.

DSL Telecom's Zoho experts also created a complete sales process blueprint, a technology inside Zoho CRM that gently guides users through what actions should be taken at what time and prompts them for the right information in the right sequence. This makes RenEnergy's sales process automated for new hires, as well as longtime salespeople, which ultimately gives employees more time to focus on support or other key areas. Email templates were also designed and leveraged to increase the efficiency and professionalism of RenEnergy's teams. What makes email templates so appealing, is that they can be sent at a moment's notice, or through automation.
Zoho WorkDrive is a content collaboration platform designed for teams to store, share, manage, and work together on files of any size. By introducing Zoho Workdrive, the RenEnergy team is now able to be more organised having a single repository for everything they're working on. DSL Telecom's Zoho experts also customised the automatic creation of a WorkDrive folder if a lead or account is created in the CRM and the automatic creation of a WorkDrive subfolder if a deal is created. These features help save a great deal of time and allow for the quick and accurate storage of documents the moment they are received in the CRM. Another time-saving feature that was added, was a custom WorkDrive widget in the CRM which allows fast and easy navigation to WorkDrive.
A further outstanding Zoho product which DSL Telecom implemented for RenEnergy, was Zoho Books which manages their finances, automates business workflows and helps them work collectively across all departments. The main reason they wanted to move from their existing accounting software, was the integration limitation thereof. One of our Zoho implementation experts provided workshop-style training sessions where opening balances were transferred from the existing accounting software to Zoho Books. Right from negotiating deals, to raising sales orders, to invoicing, Zoho Books handles mundane accounting tasks and integrates seamlessly with their other Zoho software apps so the teams at RenEnergy can focus on their business.
Introducing new internal processes was just the start for RenEnergy. They also wanted the best project management software for small to midsize businesses. Zoho Projects seemed the obvious choice as it's a cloud-based project management software, helps them plan their projects, track work efficiently, and collaborate with their team, wherever they are. - It's essentially a tool to manage their entire system at a very affordable price.
DSL Telecom's telephony department was delighted to set up 17 DSL Telecom Cloud Phone System extensions for RenEnergy and they are reaping the benefits on a daily basis. Some of these benefits include: A full integration with their Zoho CRM instance makes for seamless collaboration; Big cost savings as the Phone System runs over VoIP, allowing them to save up to 50% on traditional phone bills; they can work from anywhere with mobile and desktop apps; Zoho CRM integration; A managed service (SLA) and free remote support to name a few.
Here are just 3 of many features which RenEnergy has been utilising on their Cloud Phone System:
Thanks to the expertise of DSL Telecom, 16 RenEnergy employees now use Zoho ONE to share and track information about leads, suppliers and customers better. They are excited to explore what's possible with the other Zoho applications in the very near future.
Zoholics 2022: Renenergy's presentation
Watch this video to see Raphael Devantier presenting on behalf of RenEnergy at Zoholics South Africa 2022.
Choose DSL Telecom as your proven implementation partner
Get your Zoho Applications completely tailored to your business's requirements by our team of Zoho consultants and reap the benefits of modernisation faster.
To find out what DSL Telecom can do for your business, book your free evaluation meeting.