Curemed Health and Wealth Consultants is an independent financial advisory firm which has been in the business for more than two decades. They have a national footprint with a focus on providing full financial solutions to individuals, small to medium-sized enterprises and corporate businesses.
Specialising in holistic financial planning, Curemed's team of advisers can assist in medical scheme options, gap cover, wills & testaments, life and risk cover, savings and investments, car and home insurance as well as business insurance.
Their team of advisers has a holistic approach on their advice and will break down the various packages available, painting a clear picture of what each product consists of, so their customers are 100% sure of what they're committing to and what the cost implications are.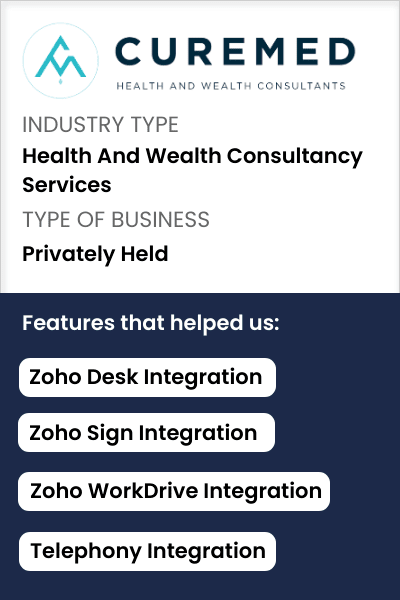 The Challenge
Curemed needed to automate and unify different aspects of their business. As a multi-faceted business, Curemed needed a centralised place for all their data where everyone could collaborate and all tasks could be tracked and automated.
As a growing business, they also had the need for a cloud-based customer service software as well as the requirement to transition from paper and pen to digital signing. It was also important for them to start using a content collaboration platform designed for their teams to store share, manage and work together on files of any size.
In short, they required a system with software that integrated seamlessly to streamline their entire business process, automate manual tasks and ultimately increase their ROI.
To achieve the objectives of Curemed, The DSL Telecom Zoho Implementation team started with a deep dive into their existing processes, identifying areas for improvement. Next came the set up and implementation of the fully- customised Zoho CRM system as the centralised application to serve all their process needs, Zoho CRM's integrations with DSL Telecom telephony products and Zoho products like Desk, Sign and WorkDrive. Zoho CRM provides Curemed with the type of powerful technology which has saved time and streamlined their business operations for a very attractive price.

A sales process blueprint was created by our Zoho experts whereby Curemed could define every stage in a process and associate people with each stage, guide their teams through the execution of the process, mandate and validate important information contextually and automate routine actions. By using the blueprint, they can track their day-to-day activities better.
Blueprint also helped them significantly cut down the time required to move people from one sales stage to another. Email templates was another CRM feature that was set up to improve professionalism and communication for Curemed's clients as well as other users within the organisation. The beauty of these notification templates is that they can be automated or quickly sent ad-hoc.
Another massive enhancement that our Zoho Implementation team completed was rebuilding the webforms on Curemed's website and integrating them into the CRM so that website visitors' information is captured from their website directly into their CRM account.
Zoho Desk was the following Zoho app to be integrated. It's a cloud-based context-aware customer service software that helps businesses provide great support availability across multiple channels, maintain prompt response times, and manage the overall customer experience without breaking a sweat. By implementing Zoho Desk, the Curemed customer services team can now expertly manage customer conversations across email, phone, live chat, and social media. It also helps them with collaboration, SLAs and even measures customer happiness.

Up next, another ever-popular Zoho product which DSL Telecom implemented for Curemed, was Zoho Sign, a revolutionary app which allows individuals or groups of individuals to sign documents digitally. Now Curemed's advisers can send all contracts through the CRM for signatures. They can simply send documents to customers for e-signatures directly from Zoho CRM and get them back signed in minutes digitally.

Curemed also needed to have a single online file management tool for everything they'd worked on to make them more organised. Zoho WorkDrive seemed the perfect choice. It gives them the space they need for a fair price, and it means they can truly upload everything without having to constantly watch the space they use. What's more, in a truly transformational integration, all Curemed's call recordings are automatically sent to and stored in Curemed's WorkDrive instance.
DSL Telecom's telephony department also got involved in the set up of 50+ DSL Telecom Cloud Phone System extensions which integrate fully to Curemed's Zoho CRM instance making for seamless collaboration. In addition, since the Phone System runs over VoIP, there are savings of up to 50% on conventional phone bills and team members can work from anywhere with mobile and desktop apps.
50+ Curemed employees now use Zoho One thanks to the expertise of DSL Telecom's team. It delivers the functionality they need and is hugely easy to use. Plus there are so many more options for other applications they can try in the future to help drive their business success.
Talking about success, Curemed has also gone ahead with the addition of a tailored DSL Telecom Customer Success Plan so that they can achieve success faster with support, one-on-one coaching and expert guidance - ultimately getting the most out of their technology investment.
Choose DSL Telecom as your proven implementation partner
Get your Zoho Applications completely tailored to your business's requirements by our team of Zoho consultants and reap the benefits of modernisation faster.
To find out what DSL Telecom can do for your business, book your free evaluation meeting.